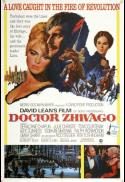 "Stories about love in a world gone mad don't come any more gorgeous, or any more sweepingly epic, than this," says Empire.
"Doctor Zhivago (which won five Oscars) astounded audiences when it debuted in 1965 with its exquisite cinematography, and decades later, it astonishes still," remarks Common Sense Media.
"One of the most meticulously designed and executed films," says Variety.
Omar Sharif
Julie Christie