EXHIBITION ON SCREEN: Frida Kahlo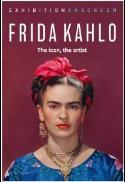 Let Fridamania begin! Frida Kahlo delves deeper than any Frida film before, capturing key artworks in high-tech definition and relying on Kahlo's letters to unlock her deepest emotions and secrets of her art.
Kahlo, undergoing physical pain from childhood polio and a debilitating bus accident in her teens, "uses details of her life as powerful symbols for the psychological pain of human existence," explains Gardener's Art Through the Ages.
On a local note, Kahlo and husband muralist Diego Rivera were hosted by the Kaufmanns at Fallingwater in the 1930s. Rivera's art work remains at Fallingwater, Kahlo piece from the historical home is now owned by Madonna). On the cover of Vogue in 2012, 60 years after her death (2012), Kahlo also was paid homage in Disney's Coco.
Filmed extensively at The Blue House in Mexico City—where Kahlo was born, now a museum—the documentary meshes international art experts, her personal letters and works.