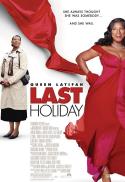 "From bad news springs a newfound joie de vivre," says the New York Times.
In Last Holiday, a woman who is told she has mere weeks to live makes a drastic change to make her last days according to her lifelong dreams. This feel-good, funny and heart-warming feature, one of Esquire's top holiday film picks, stars Queen Latifah as Georgia.
It "all depends on the Queen, who… in this film finds all the right notes and dances to them delightfully," says Ebert. com. "By making no claims, putting on no airs, telling no lies and acting as if she had nothing to lose, Georgia transforms the hotel. Last Holiday plays like a hug."
"The most surprisingly satisfying Hollywood comedy in ages," shares Village Voice.
Queen Latifah
Timothy Hutton