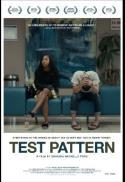 Mature theme, advised for those 15+
Thursday, April 29, at 7 p.m. Free admission, 25% capacity limits to only 43 seats available. Reservations required by emailing hello@thetullfamilytheater.org. Include your name, number of tickets, and phone number when making your reservation.
Dr. Sara Jennings, Education Director of the International Association of Forensic Nurses
Pittsburgh Action Against Rape Representatives
Test Pattern, applauded by critics and by the International Association of Forensic Nurses (IAFN), features a couple's struggles as they seek a forensic examination after the woman is sexually assaulted by a stranger. (April is Sexual Assault Awareness month.)
Following the screening, Dr. Sara Jennings, education director for the IAFN, will provide a live, remote discussion focused on the medical forensic exam and needs of the patient. Jennings, a longtime forensic nurse certified for both adult and pediatric examinations, holds a Doctor of Nursing Practice degree from Duquesne University and continues to practice clinically as a forensic nurse for an organization serving multiple hospitals in Richmond, Va.
The presentation will be moderated by a representative of Pittsburgh Action Against Rape (PAAR), one of the oldest rape crisis centers in the country. PAAR provides confidential services with experienced, trained counselors and advocates, and is dedicated to assisting victims of sexual abuse and ending sexual violence. During and after the screening, PAAR staff members Emma Fornari and Rhea Modi will be available.
"Test Pattern doesn't shy away from showing how sexual assault can take its toll on even the strongest of relationships," says Common Sense Media. "With beautiful acting, scenes filled with silent tension, and then slowly escalating depression and hopelessness, Test Pattern shows how much America's infrastructure must change to put victims first—and perpetrators on notice."
"An engrossing human drama, one that examines the intersections and inequalities between race, gender, and healthcare in a poignant and powerful way," states Ebert.com.
Will Brill
Drew Fuller
Ben Levin
Brittany S. Hall
Gail Bean