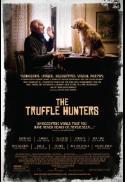 The Truffle Hunters delivers "a scrumptious, melancholic cinematic journey into the storied world of truffle hunters in Northern Italy that serenades the eyes and appeals to sophisticated taste buds," says Variety. "…Try not to fall hard for the immediate flavors of joy it spreads."
"An otherworldly enchantment," the Associated Press beams. "In between backwoods trips where their dogs smell their way to the high-priced delicacies, the hunters live humbly in old country homes. Our main characters are never explicitly introduced, but we're drawn intimately into their world, as if we just passed through a magical portal…. This, surely, is a gentle realm every bit as bewitching as Narnia."
Science on Screen®, is the popular national program that pairs films with experts. The Tull Family Theater is honored to be selected for the third time as one of only 37 cinemas nationwide—and the only tri-state arthouse—to participate in this program. The schedule of films is below; other experts and presentations may be added. Given current occupancy restrictions, the Theater suggests securing tickets in advance for each  of these special events. All health and safety protocols are detailed on our website.
Tuesday, May 4 @ 7:00 PM
Julie Travaglini
Senior Director for Education and Curriculum, Allegheny Land Trust
Biodiversity isn't only a large-scale phenomenon occurring in Italy's hills. "Small" biodiversity is equally amazing, says Julie Travaglini, senior director for education and curriculum at the Allegheny Land Trust, the nonprofit that protects more than 3,000 acres of green space in Western Pennsylvania. Travaglini will share the biodiversity of our backyards and region in a kid-friendly presentation starting at 7 p.m., before the screening of The Truffle Hunters.
With a bachelor's degree in biology and a master's in education, Travaglini has had many experiences as a licensed environmental educator, working in settings from arboretums to zoos, and was recognized as the 2019 Outstanding Environmental Educator of the Year by the Pennsylvania Association of Environmental Educators. As a state licensed Specialty Discipline Instructor, she serves on several Boards, including the Western PA Mushroom Club.
Friday, May 7 @ 7:00 PM
Dr. Barb DeRiso
Former Officer and Longtime Member, Western PA Mushroom Club
Dedicated Truffle Hunter
Given the rich rewards of locating these elusive treasures, truffle hunters are known to be secretive. But Dr. Barb DeRiso is willing to tell all. Well, almost all.
DeRiso, a retired anesthesiologist, joined the Western PA Mushroom Club in 2006. Since 2010, she and husband Don Newman have hunted truffles in the Umbria, Le Marche, Piedmont and Emilia Romagna regions of Italy; toured the Urbani truffle facility in Umbria; and have visited the International White Truffle Fair in Alba, Italy. When pandemic travel restrictions lift, they look forward to their 28th trip to Italy.
Egidio Gagliardi
Enrico Crippa
Piero Botto
Sergio Cauda
Aurelio Conterno
Maria Cicciù